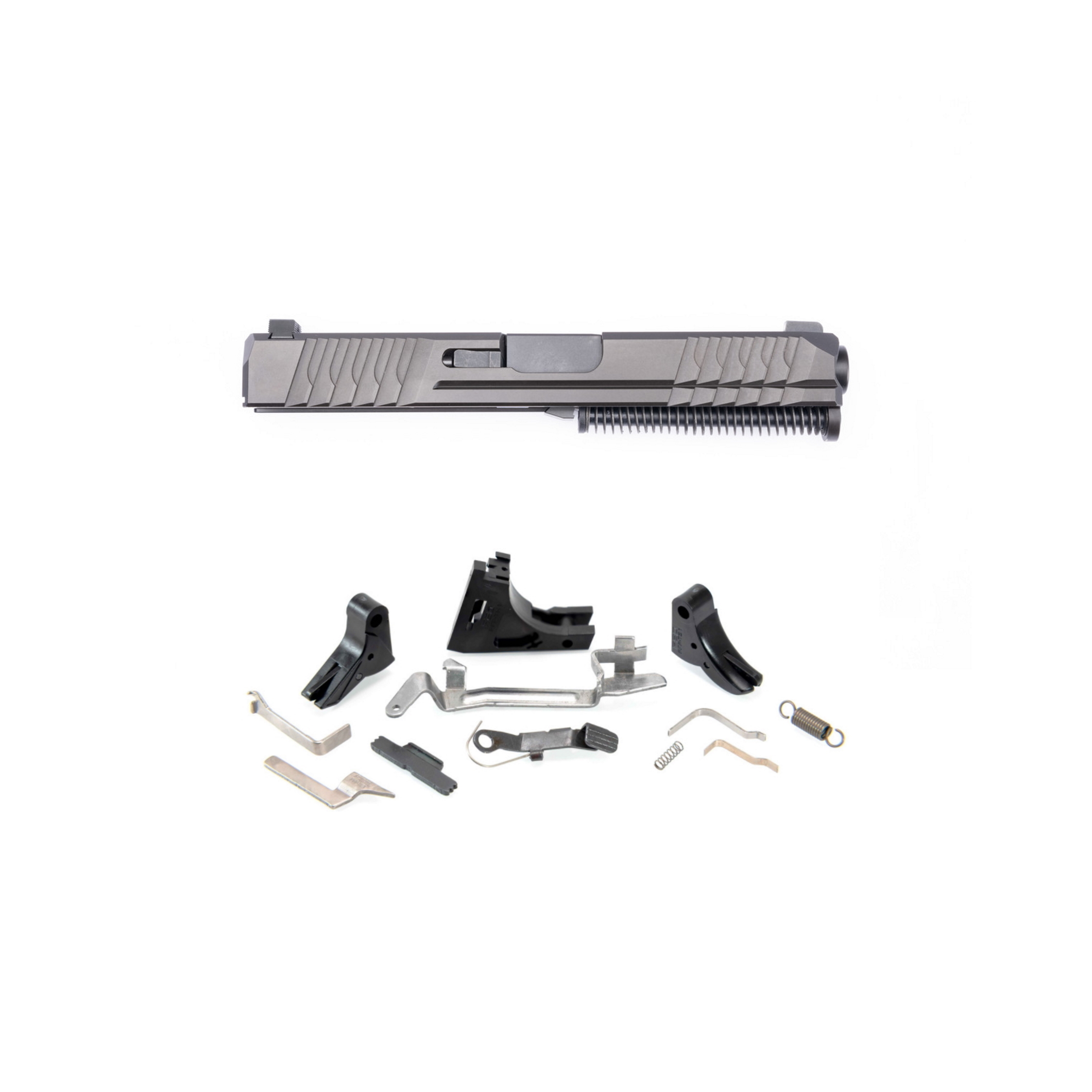 P80 PS9 Complete Slide w/Frame Parts Kit & Complete Trigger Assembly
$462.00
Everything you need to complete your PF940C frame,  OEM Gen 3 Glock® 19 frame, or your 3D printed frame (minus rails). Includes Polymer80 PS9 Complete Slide and Polymer80 brand Frame Parts Kit with complete trigger assembly.
Out of stock
Note: your jurisdiction may require you to be a licensed FFL or licensed gunsmith to purchase this product.


The Polymer80 PF-Series™ Complete 9mm Slide Assembly is comprised of a Black Nitride slide and barrel combination with Polymer80's high quality slide parts, sights and recoil spring/guide rod assembly. The slide features aggressive front and rear serrations for a positive grip while manipulating the slide. The PF-Series™ Complete Slide Assembly is ready out of the box to be paired with your PF940C frame, OEM Gen 3 Glock® 19 frame, or your 3D printed frame.


The Polymer80 PF-Series Full Pistol Frame Parts Kit is compatible with the
PF940v2
,
PF940C
,
PF940SC
frame assemblies. Giving the end user multiple options with one kit, Polymer80 has included two trigger shoe styles, curved and flat. Also, there are three options for the slide lock spring, compact, subcompact and full-size slide lock spring.
Parts Included:
Flat Trigger Shoe
Curved Trigger Shoe
Trigger Safety
Trigger Bar
Trigger Spring
Trigger Housing
9mm Ejector
Connector
Magazine Release
Magazine Release Spring
Slide Lock Lever
Compact Slide Lock Spring
Full Size Slide Lock Spring
Subcompact Slide Lock Spring (coil spring type)
Slide Catch Lever
Trigger Pin
Locking Block Pin