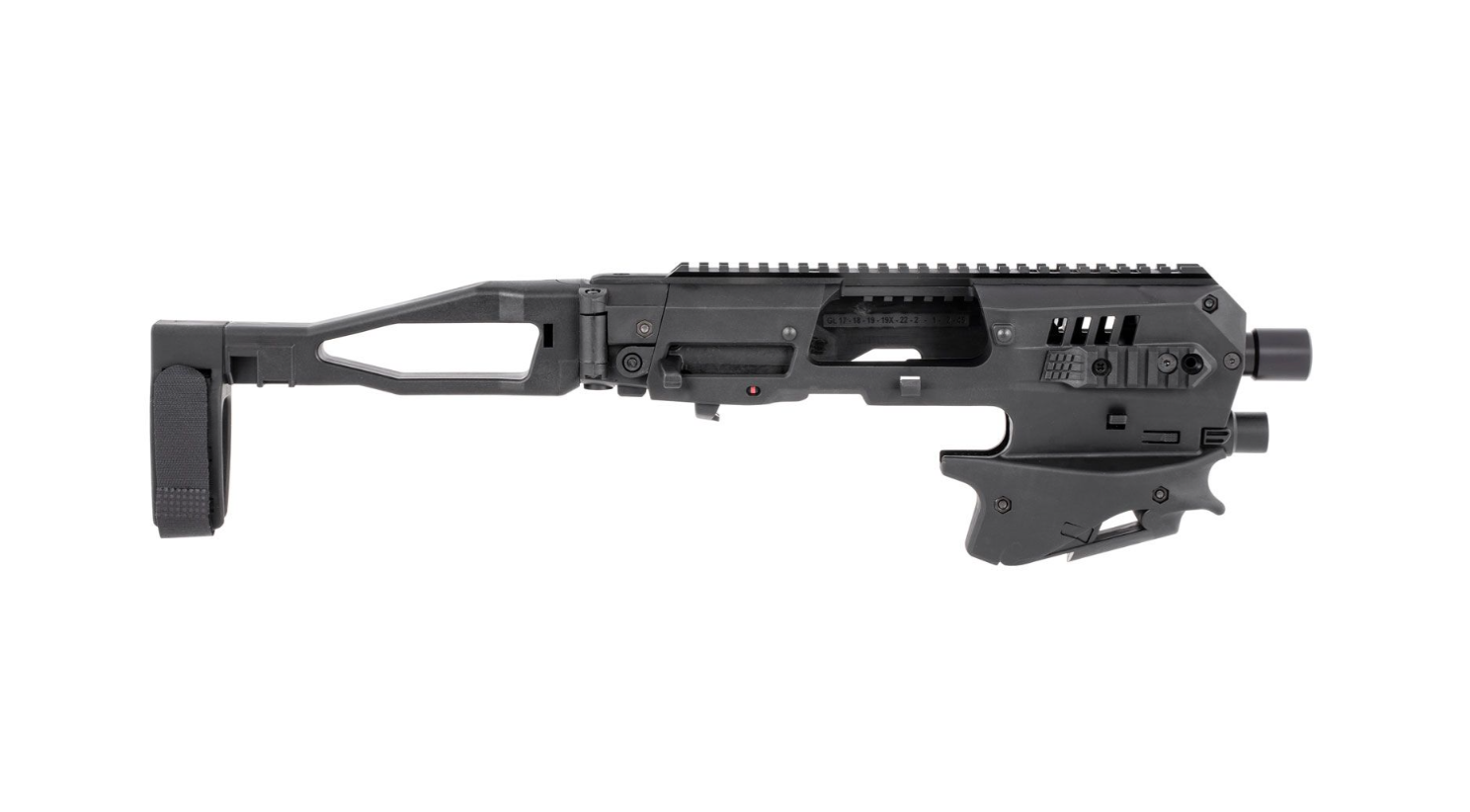 CAA MCK Micro Conversion Kit – Black | Fits Glock 17, 19, 19X, 22, 23, 31, 32, G45
$299.99
The next generation of Micro Roni is here! We improved our past generation models into the ultimate conversion kit. Micro Roni Generation 4, we Call it the MCK and it's 100% made in the USA.
This Micro Conversion Kit is a lightweight and sturdy platform for Glock handguns, turning it into the ultimate Glock Conversion Kit. It has a barrel shroud made of aluminum with a polymer body.
It is greatly improved from previous generations of the Micro Roni Stabilizer. Available for select Gen 3, 4, and 5 Glock models.
In stock
Note: your jurisdiction may require you to be a licensed FFL or licensed gunsmith to purchase this product.
The MCK 2.0 Conversion Kit is the most cost effect and fastest assembly/disassembly conversion kit on the market. The Gen 2 MCK features a new extended stabilizer which allows the user to fire the Gen 2 MCK in the folded and locked position. The stabilizer is compatible with Gen 1 MCK's as well. This kit also features a rear door extends back an additional 15 degrees, accommodates suppressor height sights, a charging handle which makes more surface contact with the rear of the handgun slide, and an aluminum top picatinny rail for improved stability, durability, and accuracy. It also has an improved spare magazine holder that operates with a mag catch and magazine release button, and is suppressor friendly and can accommodate a suppressor up to 1.38" diameter.

The extended stabilizer, which now comes standard, enables one-handed firing for better shooting performance. It also comes with a Velcro strap fastener which provides a custom fit to any user. This kit also features an ergonomic finger groove grip, side Picatinny rails, and a right-folding stock arm brace for easy concealment and carry. The kit is ambidextrous for fast and easy handling, allows for multiple handgun models into one platform, and improves accuracy dramatically up to 200 yards.

No pistol disassembly required. Just place pistol into the kit, lock, and go.

*Not compatible with Gen1 & Gen2 models of Glock or Polymer80 frames.
*Does not fit Glock 22 GEN5 or Glock 23 GEN5.