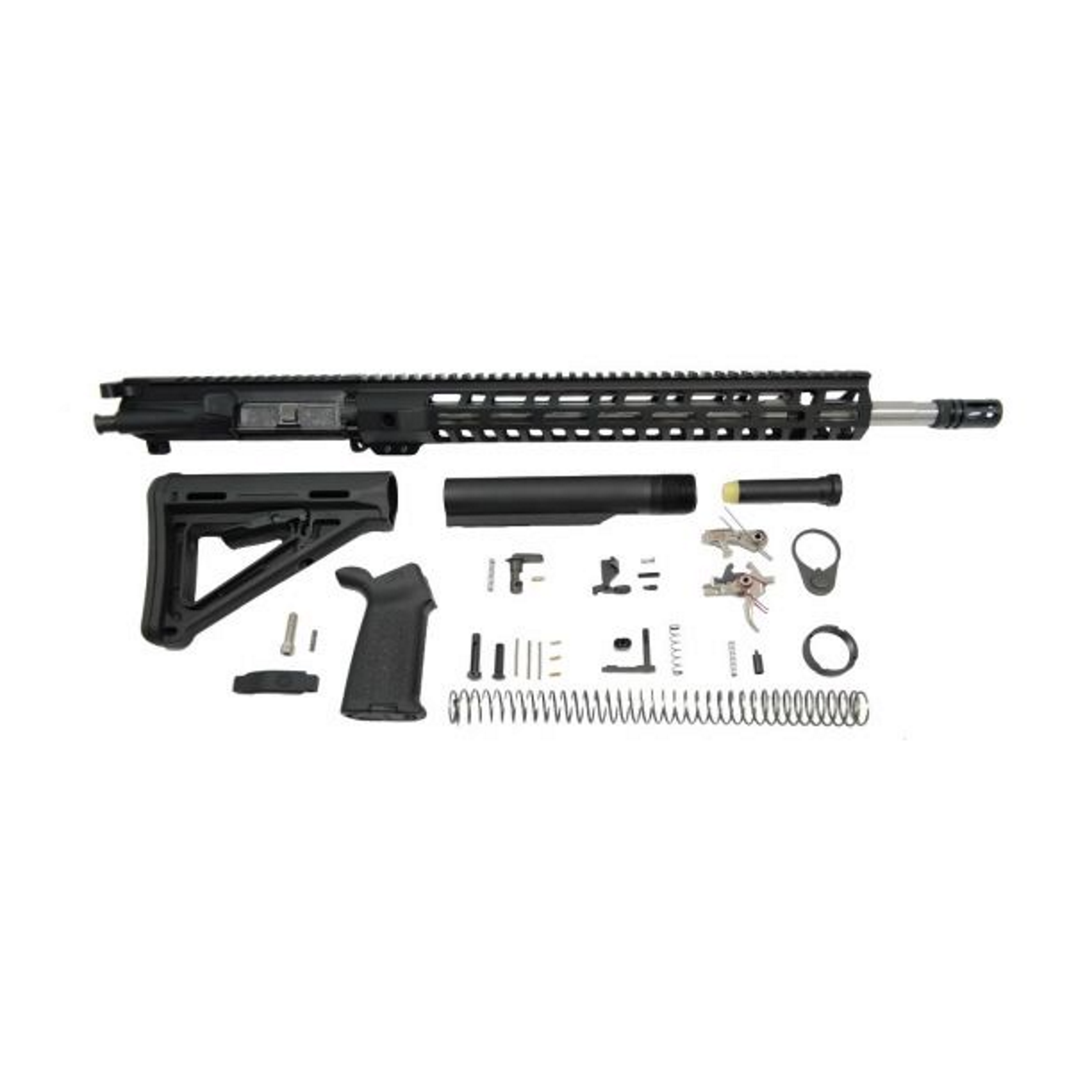 18″ 6.5 GRENDEL STAINLESS STEEL M-LOK MOE 2-STAGE PRECISION RIFLE KIT
$873.99
416R Stainless steel. Chambered in 6.5 Grendel, with a 1:8 twist, M4 barrel extension, and a rifle-length gas system. The barrel is finished off with a 15″ Lightweight M-Lok free float rail, .750 adjustable gas block, and A2 flash hider.  Forged 7075-T6 A3 AR upper is machined to MIL-SPECS and hard coat anodized. These uppers are made for us right here in the USA by a mil-spec manufacturer. Full-auto profile bolt carrier group. 9310 steel bolt, Shot Peened, Gas Key Hardened to USGI Specifications, Fastened with Grade 8 screws, and Staked Per Mil-Spec. 8620 steel M-16 profile carrier is nitride treated. Includes MOE 2-Stage Lower Build Kit.
*Not for sale to residents of the states of New York or New Jersey.
Out of stock
Note: your jurisdiction may require you to be a licensed FFL or licensed gunsmith to purchase this product.
Barrel Length: 18"
Gas System: Rifle-length
Barrel Profile: A2 Style
Barrel Steel: 416R
Barrel Finish: Stainless Steel
Chrome Lining: None
Muzzle Thread: 5/8-24
Chamber: 6.5 Grendel; Type 2
Twist Rate: 1:8
Barrel Extension: M4
Diameter at Gas Block: .750
Gas Block Type: Low profile adjustable gas block
Muzzle Device: A2 Flash Hider
Receiver Material: Forged 7075 T6
Receiver Type: M4
Handguard Type: 15" Lightweight M-Lok Free Float Rail
Bolt Carrier Group Included: Yes
Bolt Steel: 9310, Nitride Coated
Bolt Carrier Profile: Full-auto
Charging Handle Included: Yes
Build Kit: MOE 2-Stage Lower Build Kit, Black
Overall Length: 24.5"
Weight as Configured: 4.2lbs