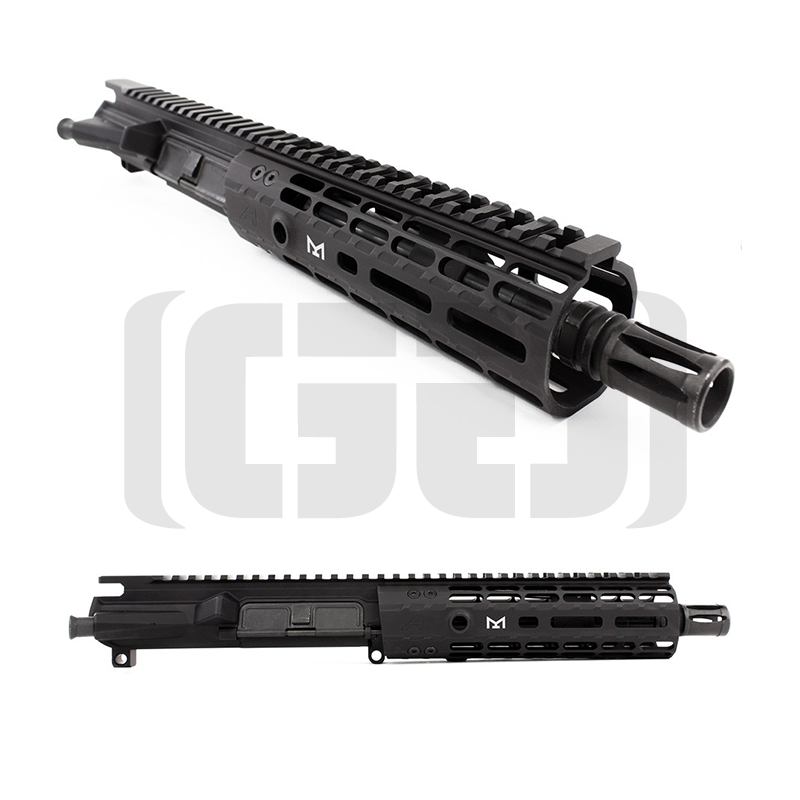 300 AAC Blackout Pistol Upper Receiver Build
$450.00
The Ghost Guns 300 Blackout Aero Upper Receiver is the perfect finish for your pistol build. Use the drop down to add the complete bolt carrier group and extended charging handle to make it complete.  Featuring an 8″ barrel with fullpicatinny rail on top and M-Lok attachment ability on the sides and bottom.
Out of stock
All of our products are what we believe an initial gun enthusiast should own.  The 8" barrel is the perfect length to enjoy the full features of the 300 AAC Blackout round.  Machined and assembled by Aero Precision.

Includes:



8" 300 AAC Blackout 4150 Chrome Moly Vanadium Barrel


Low profile gas block


Pistol length gas tube


1 in 7 barrel twist


QPQ corrosion resistant finish both inside and out


Weight: 18oz


Duly note:  Because of the shorter barrel, this is now considered an AR pistol.  We have made sure it is still completely legal when you buy our full kit together.  The Blade buttstock allows for more versatile shooting preferences while also abiding by California strict gun laws.  Please do a little research in your own state laws to ensure your still a law abiding citizen.
The upgraded extended charging handle allows you to rack the rifle easier.
The M-Lok Free Float Handguards are hard aluminum and work with M-Lok attachments so you can upgrade your rifle with your own personal touch.  The picatinny rail on top of the rails match up with the rail on top of the upper receiver, giving the rifle a clean look  It also serves a functional purpose allowing you to attach whichever sight system you would like to use with the rifle.